How can I embed Credit on my web site or blog?
Credly gives you the ability to embed earned Credit and badges on to your own web site or blog. We also give a range of configuration options so you can choose the look and feel of the Credit as it appears on your own site.
Visit your "My Credit" section from the user menu at the top right corner of the site, and visit your "Categories" page. Personal Categories help you manage your Credit and make it easy to share select Credit to your social networks or your own website or blog. Add new personal Categories from your "My Credit" page by clicking the "Add Category" button at the bottom of the page. (Learn more about personal "Categories.")
On the "Categories" page you will also see an icon associated with each category you have created. Use that to configure, copy and paste the embed code for the Credit in that category to any site, such as your personal web site or blog.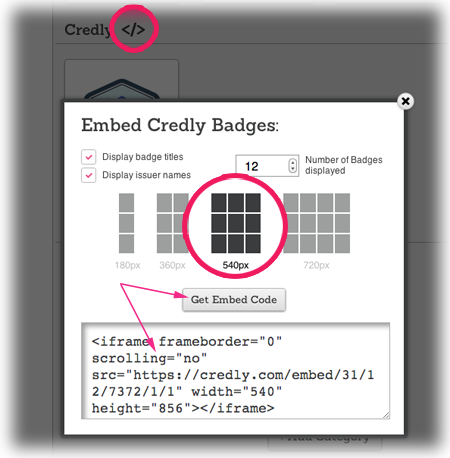 ---
After you select a grid option (i.e. the 540px grid), the "Get Embed Code" button will appear. Click that and embed code specific for your badges appears. Copy the code and paste it as HTML onto any web page where you'd like it to appear.
Other options include:
Display badge titles: When checked, will include the name of the Credit in text, along with the badge image. Display issuer names: When checked, the embedded Credit will include the name of the person or organization that issued you the Credit. Number of Badges displayed: This limits the Credit displayed to the selected number of most recent Credit received.