Psst: We Badge Too! A Peek Inside Credly's Own Credentialing Program
At Credly, we truly believe in creating a culture of achievement and recognition, rewarding our employees, and issuing badges for their verified achievements. As a company, our core values are the same values we talk with our customers and prospects about everyday: engagement and retention, offering skills as a benefit, and encouraging continuous learning. We believe that our own employees should have portable, verified proof of skills that they can carry with them throughout their careers at Credly and beyond.
That's why we create and issue our own set of badges that our employees can earn and share. Some badges, like "Credly Employee," reflect roles and responsibilities, while others, like "Data Security," require employees demonstrate their competency in a particular field. The "Public Speaking Evangelist," and "Open Source Application Development," require employees to complete tasks and submit evidence of doing so. One of our badging team's core principles is that we don't issue participation trophies at Credly - our badges are meant to be valuable both inside and outside of our organization. Employees are encouraged to share their achievements on social media, on their email signatures, and on their resumes, just like we encourage our customers to have their earners do.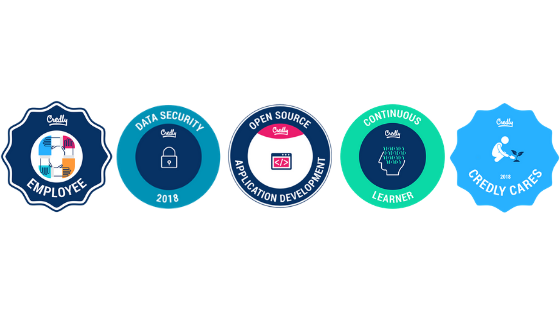 Our credentialing program is constantly evolving. Every employee is invited to submit ideas for credentials. They submit a form that has the proposed badge name, draft metadata to support it, and an explanation for why the proposer thinks credential is valuable. Then, our internal badging committee meets with the author, finalizes the metadata, designs the badge, and builds it on Credly's Acclaim platform. From there, any employee can nominate either themselves or a fellow colleague who they feel has qualified for any of the credentials. There are currently fifteen different badges our employees can earn and that number is likely to increase in the coming weeks and months.
The best employees are engaged employees, and everyone likes to be recognized for their hard work. That's why we truly understand how valuable a portable currency for skills are in the workplace. By creating, issuing, and earning badges internally, we're able to get the full picture of how digital credentials make an impact, and how exciting it is to earn them! Using our own product encourages everyone at Credly--from sales and marketing to Client Success--engage with the platform in a way that's personal, turning our workforce into ambassadors for learning.
If you have questions about how to start a digital credentialing program, or if you'd like to speak to one of our badge experts, fill out the form below and we'll be in touch: