Brandman University Teams Up with Credly to Issue Digital Badges as Part of Competency-Based Education Degrees
Brandman Students will Earn Digital Badges to Certify Competencies Required for Employment and Success in Today's Workforce
IRVINE, CA – (January 7, 2015) – Brandman University, a private nonprofit institution, has teamed up with Credly, provider of platforms for managing lifelong credentials, in a groundbreaking effort to enable learners to attain, manage, and share portable digital badges and credentials earned through Brandman's online competency-based degree programs.
Brandman, which uses direct assessment as part of the university's new competency-based education programs, will issue official digital badges to certify discrete skills as students advance through degree-based programs. Competency-based education (CBE) is an innovative educational method that matches the skills most needed in a 21st century workforce with a formal degree program. With digital badges validating each skill, learners will be able to put evidence of their abilities to work in real time in the pursuit of professional opportunities.
"Employers inform us that there is a need to validate the skill set of business students and graduates," said Gary Brahm, Chancellor of Brandman University. "Digital badges will arm our students with a form of professional capital that has immediate value in the workplace."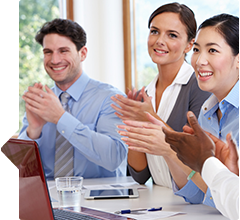 Digital badges – which can represent a range of accomplishments, skills and abilities – are verified, portable units of achievement owned and curated by the individuals who earned them. The badges may be shared or displayed in any setting where one's qualifications matter. With the Credly platform, these secure machine-readable credentials link back to the issuing source for validation of their authenticity while also providing a self-contained set of data about the criteria, issuer and evidence that gives the credentials context and value.
Credly allows achievements to be easily displayed in searchable LinkedIn profiles, employer talent management systems, e-portfolios, social networks, online communities, websites and other places where people can be discovered and recognized for what they bring to the table. The platform also provides insights and analytics which help the issuer understand the utility of each credential, aiding in refining and developing new educational programs to match real-world needs.
Brandman chose to work with Credly based on the company's technology and thought leadership in the rapidly evolving area of digital credentials and open badges. The university plans to develop a consortium of institutions that will work directly with employers to develop standardization of badging, starting with the business program.
"The unique structure of programs like our new online competency based bachelor's degree in business administration (BBA) requires students to concretely demonstrate mastery of knowledge, skills and abilities," said Charles Bullock, Brandman University Provost. "A new approach to offering degree programs deserves a new way to help students put their education to work – and digital badges are an important part of doing that."
Brandman University is just the fourth institution in the nation to be approved by the U.S. Department of Education to award financial aid to competency-based students using direct assessment, and the first of all CBE programs to issue digital badges certifying skills as students progress through their degree-based programs. The university will be using Credly Enterprise edition, a highly scalable, cloud-based platform for managing the digital credential lifecycle.
"The value of digital badges is inextricably tied to the quality of instruction and assessment that lead to them, the credibility of the issuing institution, and their alignment to criteria informed by real-world employers," said Jonathan Finkelstein, CEO of Credly. "Coming from one of the nation's leaders in developing CBE programs, Brandman-issued badges will be a valuable and respected credential in the workforce."
About Brandman University Brandman University is a private, nonprofit institution accredited by the WASC Senior College and University Commission. As part of the Chapman University System, Brandman blends a legacy of academic excellence with innovative curriculum and strong support services designed for students with busy schedules. The university offers 50+ undergraduate, graduate, credential and certificate programs across its schools of arts and sciences, business, education, nursing and health. Brandman serves 12,000 students annually with programs available online and at 26 campuses throughout California and Washington. The university's online programs consistently rank among the top in the nation by U.S. News & World Report. Visit www.Brandman.edu.
About Credly Credly empowers the recognition of lifelong achievement by offering the leading platforms for verifying, sharing and managing digital badges and credentials. Thousands of organizations, including the New York City Department of Education, Brandman University, SUNY, Event Leadership Institute, Kirkpatrick Partners, University of Central Florida, EDUCAUSE, Instructure, Training Magazine, Yale University, Smithsonian, and the American Alliance of Museums, use Credly to make achievements visible. Visit Credly.com.
CONTACT INFORMATION
Joseph Cockrell, Vice Chancellor of Communications Brandman University jcockrel [@] brandman.edu 949-341-7619
John Walber Credly john [@] credly.com 800.841.5890 x805