United Nations Staff Recognized with Digital Badge for Advancing UN Work through Social Media
U.N. Social 500 Recognizes, Amplifies and Encourages UN Staff to Harness the Power of Social Media
UN Social 50A new social media ranking leaderboard and digital badge now helps people worldwide discover the leading influencers promoting, discussing and describing the work of the United Nations (UN) on a daily basis via their own social media channels.
The UN Social 500 rankings are generated by Rise, a gamified performance platform, which integrates with Credly to automatically distribute official digital badges to top-ranked individuals.
In conjunction with social analytics ranking engine Klout and digital credential platform Credly, Rise developed the UN Social 500 website to honor the top social media influencers within the United Nations. Drawing on data from multiple channels, Klout issues individual social media account scores. Rise then provides personal tracking over time, comparative benchmarking with peers and an overview of which UN social media butterflies have been most successful in spreading their wings. Digital open badges are issued via Credly to those UN Staff members who rank in the UN Social 500.
Toby Beresford, Rise CEO said, "We are honored to contribute to what is undoubtedly the world's most recognized organization. Social media is an incredibly powerful tool and through UN Social 500, we're helping the United Nations make the most of online opportunities to engage with the world."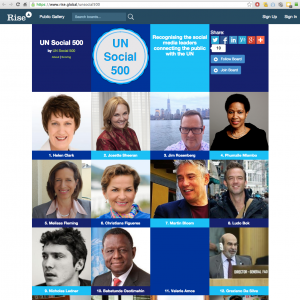 The initial idea came to light in the wake of the UN Influx hackathon, which challenged personnel to come up with ways to "use digital innovation to connect the UN and the public more effectively." For Rise, the solution was the launch of social media leaderboard, UN Social 500. At its core, it encourages staff to augment their social media impact and promote UN efforts via personal online accounts. The board even boasts its very own #UNSocial500 hashtag to ensure followers stay up-to-the-minute on all the latest developments.
In today's digital society social media has become an integral part of both personal and corporate communications. For an organization focussing on peacekeeping, security, human rights and economic development, social media is a hugely effective way to engage with global citizens. As such, UN personnel making the most of social media channels deserve to be commended for their efforts. The UN Social 500 leaderboard does just this, while simultaneously allowing members of the public to discover the most influential men and women who promote, discuss and describe the work of the UN on a daily basis.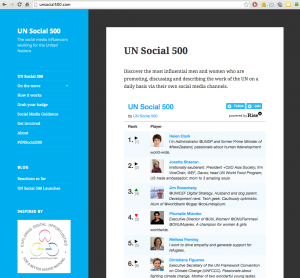 "From globally recognized organizations such as the United Nations to local SMEs and expanding corporations, the latest UN Social 500 drive is a lucid example of how a gamified performance management platform can be used to motivate employees to supercharge social media presence," added Beresford. "For businesses and organizations of any size, it's an innovative way to boost public profile, engage with a larger target audience and ensure that social media channels are worked at their hardest."
Rise is one of hundreds of Open Credit-enabled apps which leverage the Credly platform to help make achievement more visible, give credentials currency and value, and provide new opportunities for both individuals and organizations to be recognized and rewarded.
Learn more about the Rise and Credly app and integration.