College for Financial Planning (CFFP) has trained more than 149,000 graduates in diverse financial planning services over the last 40 years.
Founded in 1972, CFFP offers accredited education and assessment in multiple fields, including asset management, wealth management, retirement planning, mutual fund counseling, and more. A Kaplan company, College for Financial planning is attuned to critical trends and practices in higher education that support their work training financial advisors.
An Opportunity in the Industry
CFFP seeks to give financial advisors the education and tools they need to become experts in their fields. To that end, since 1984, CFFP has offered "paper badges": signature lines and trademarks that advisors could use on their business cards or letterheads to showcase their expertise in financial services.
As CFFP worked to identify projects that would drive their competitive advantage, they realized that digital badging was an exciting opportunity in the financial advising industry specifically and across education in general. CFFP believes that advisors will have increased confidence in sharing their credentials with clients when they can put a badge in their email signature, on LinkedIn, or within an electronic resume. What's more, a digital version of their credentials easily showcases an advisor's specific skills as well as the requirements they've met to earn those specialty designations.
College for Financial Planning and Credly
To enhance the education and experience of their financial advisors, CFFP sought a badging platform that would elevate the status of their designations and provide a secure and verified experience for the financial advisors, compliance departments, and potential clients.
After exploring other platforms, CFFP ultimately decided to work with Credly because they felt comfortable with Credly and the high level of experience it holds in having issued millions of digital credentials across industries. It was important to CFFP that their badges be part of a professional ecosystem used to recognize high-level professional and academic accomplishments.
A Successful Solution
Because the financial industry is highly regulated, financial advisors must be very careful of how they represent their skills and certifications. Since its badging launch in early 2017, CFFP has seen a great response to their badging initiative, not only with badge earners but with compliance and regulatory departments, too. CFFP has heard from compliance departments in large financial companies who praise Credly digital badges because they are authorized by a third party, making the verification process very easy.
CFFP also notes that the badge sharing opportunities within Credly hold a lot of potential. According to Dirk Pantone, Vice President of Business Development at the College,
"It's a snowball effect: when you get badge earners accepting and sharing, it just inspires others to want their badges, too. I love the Credly analytics and seeing how many badges are posted on LinkedIn and Facebook. It's also very valuable to have badges shared in email signatures in the financial services industry—it resonates a lot with our end consumers."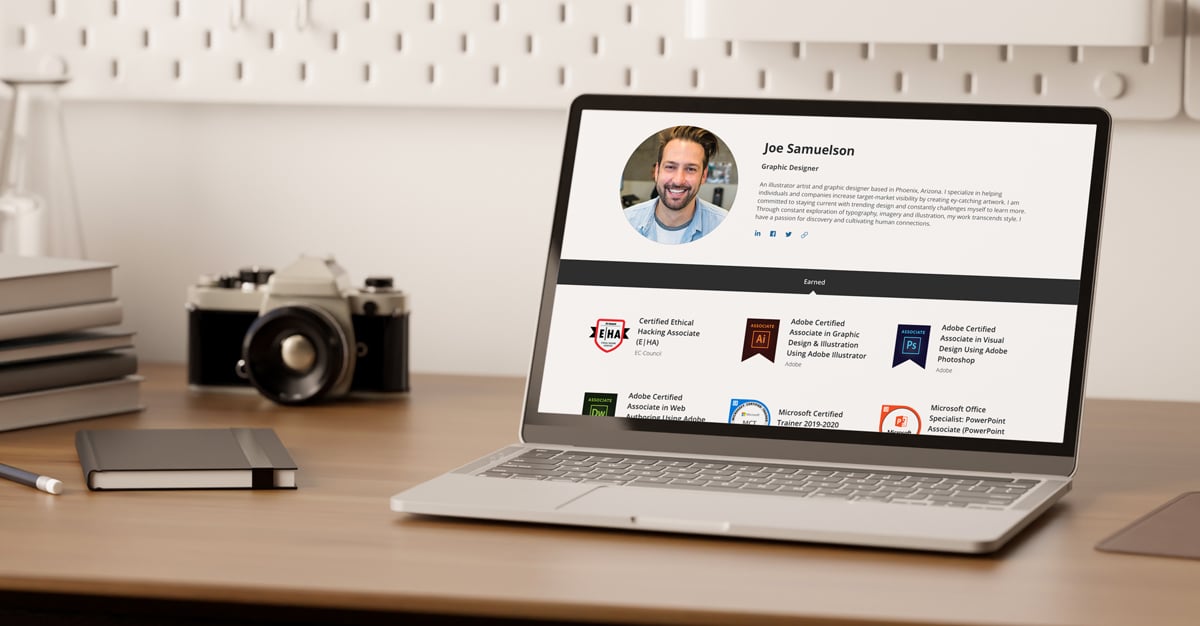 In the future, College for Financial Planning sees opportunities to use digital badging to represent continuing education credits as a way to boost quality and experience in that area.
Empower Your Learners
Credly connects the knowledge, skills, and abilities learners develop with employer demand. Learning and career pathways become more clear with digital credentials, and learners become more engaged, leading to increased persistence.
To learn more about empowering your learners with digital credentials, contact Credly.
Customer

View Program