On the frontlines of IBM's training and education programs, we have seen and experienced many milestones influenced directly by our organization's digital credentialing strategy. Learner engagement has improved by a significant margin, digital course completion rates have increased exponentially, and skills coverage insights are dramatically improved.
These outcomes are achieved in large part by the implementation of a comprehensive credentialing framework to extend the application of digital credentials across the entire learning journey and not limiting them to only the highest stakes achievements. While high stakes credentials like formal certification may be the ultimate goal, we also recognize the importance of providing the learner with credentials reflecting achievement of important skill progression milestones and essential discreet level expertise acquired incrementally throughout the learning journey. Providing our learners with a more comprehensive and verifiable digital record of their investment in educational activities is a cornerstone of IBM's credentialing strategy, and it also serves as an excellent way to gain improved visibility into talent development pipelines and trends.
So how does this credentialing strategy hold up during a global pandemic when our targeted audiences are restricted to working and learning in isolation and having to contend with a whole new set of distractions? Will skill development take a back seat to other priorities as individuals are trying to adjust to new ways of working, or will we see an increase in learning engagement and credentialing trends? Will our digital credential strategy serve as a catalyst for learner motivation and engagement during such unprecedented times? These were key questions we set out to find answers for, and we believe the results clearly reinforce the value and importance of investing in a thoughtful digital credential program framework to add value to our education and training initiatives.
What a difference a year and one global pandemic makes
We began our analysis by performing a simple side-by-side calculation of the total number of IBM digital credentials earned worldwide between January 1st and April 15th for both 2019 and 2020. The same analysis was also performed for the periods between Mar 1st and April 15th and again between Apr 1 – Apr 15. The last two measurements provided a more direct contrast between the impact of the COVID-19 pandemic and learner engagement in credentialed IBM training activities. The results imply a correlation between regional and country lockdown mandates and earned digital credentials: Note: COVID-19 was a well-established worldwide health concern by Mar 1, with a global pandemic formally declared on Mar 11.
Jan 1 – Apr 15:

40% year over year increase

in earned IBM digital credentials
Mar 1 – Apr 15:

74% year over year increase

in earned IBM digital credentials
Apr 1 – Apr 15:

120%

year over year increase

in earned IBM digital credentials
These trends are further illustrated in the chart shown in figure 1:
As the severity of the global pandemic escalated and shelter-at-home mandates grew, the consumption of IBM credentialed learning activities rose almost proportionately. Figure 2 further reinforces this trend by illustrating the almost immediate increase in earned digital credentials in India within 24 hours of the country being placed on lockdown.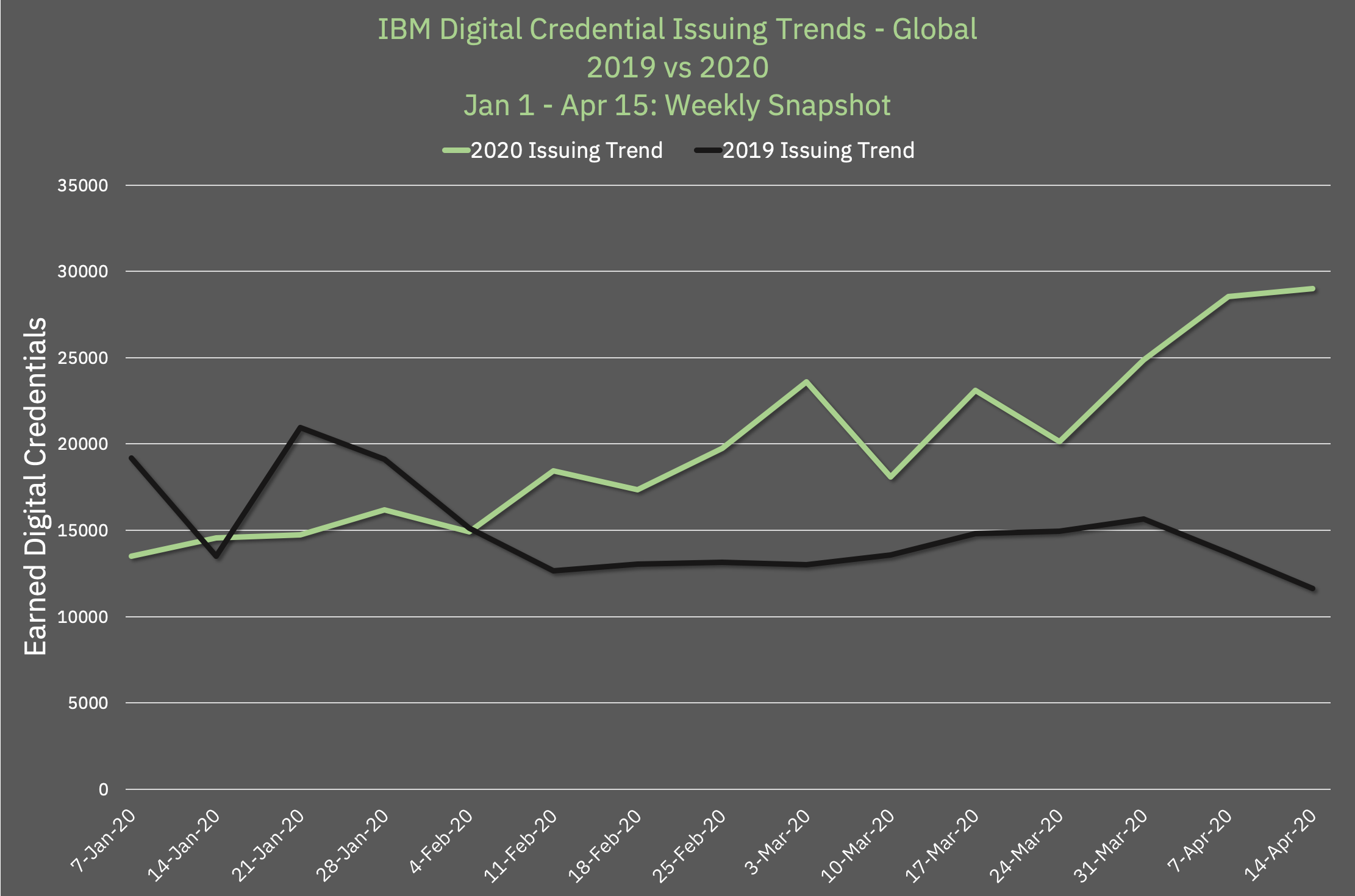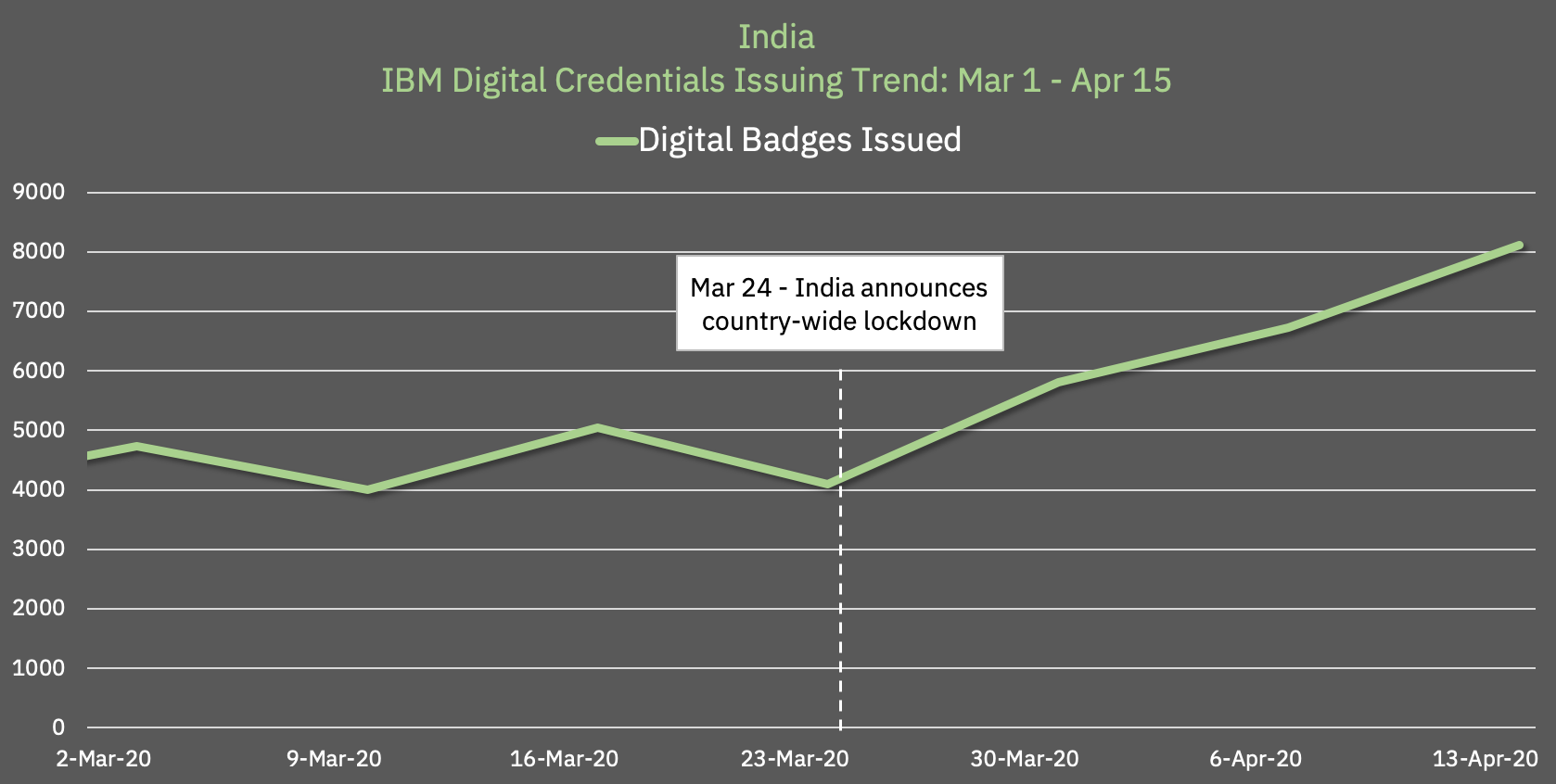 We have seen similar trends occurring across many other countries and regions around the globe and expect those trends to continue for some time to come.
What have we learned?
Two important lessons can be taken from this experience:
The resiliency of human nature is nothing short of amazing, and IBM's ecosystem of learners serves as a great reminder of this truth.
Never underestimate the impact of a thoughtful and well managed digital credential program as a means to motivate individuals to take ownership of their own skill development and to take advantage of every available opportunity to grow professionally – even during times of adversity.
Make no mistake – the work required to attract and engage learners is never complete. The lifecycle of measuring, analyzing, and adjusting training and credentialing programs is critical for realizing continuous success in capturing, keeping, and growing talent both within and outside the organization. Digital credentials are essential to this mission and should be an integral part of every organization's training strategy.
Author Bio
Jim Daniels,
Sr. Program Manager,
Global Learning and Credential Strategy – IBM
LinkedIn,
Twitter: @danielsje,
Email: danielsj@us.ibm.com

Jim Daniels is a senior program manager for IBM's education and credentialing growth initiatives, which are aimed at driving transformation and expansion of IBM's training and skills recognition programs worldwide. He is a founding member of IBM's award-winning digital credentialing program and continues to be responsible for ongoing delivery architecture and operational strategy with over five years of front line experience in designing, developing, and deploying credential programs worldwide. Jim has served in a range of global leadership roles, with emphasis on education development and delivery, professional consulting, and technical sales business strategy and execution. This includes the development and launch of IBM's first self-paced virtual course delivery strategy, along with the first self-paced learning library platform leveraged by IBM's worldwide services and technical sales organization.
Customer

Author
This post was written by Jim Daniels, Senior Program Manager for IBM's education and credentialing program.
View Program