Digital badges might be the next frontier in association education
"Digital badges might be the next frontier in association education. The American Alliance of Museums is trying a few on."
The digital badge initiatives of the American Alliance of Museums (AAM), a Credly partner and verified issuer, are featured in the cover story of the November/December 2013 edition of ASAE's "Associations Now" magazine. Spotlighted as well is the innovative work of EDUCAUSE, which also works with Credly to make association member achievements visible. The article, which is available online, is entitled "Signs of Change: American Alliance of Museums' Digital Badges."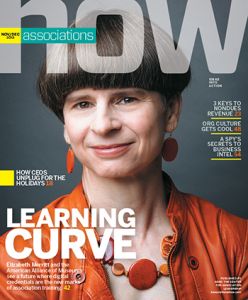 Read article: http://associationsnow.com/2013/11/signs-of-change-american-alliance-of-museums-digital-badges/
Article Excerpts:
AAM:
"[Elizabeth] Merritt is the founding director of the Center for the Future of Museums (CFM), an initiative of the American Alliance of Museums that's designed to seek out new ideas to serve its membership. ... In the past two years she's become increasingly interested in digital credentialing—a form of online education in which the student receives a publicly visible 'badge' ..."
EDUCAUSE:
"[The] EDUCAUSE Learning Initiative began experimenting with digital badges at its 2013 annual conference, awarding more than 1,400 in 12 categories related to participation, presenting, and community service. That allowed participants to satisfy their interest in broadcasting their accomplishments: 'I think the future of the resume is the public resume,'" says Tracy Petrillo, CAE, chief learning officer of Educause, an association of IT professionals in higher education.
Credly:
"One of the most important trends is how self-directed people are [approaching] their own learning," says Jonathan E. Finkelstein, founder and CEO of Credly... "We're very accustomed to learning what we need to know on a completely on-demand, just-in-time way. The vast majority of the learning we actually do is not in formal settings, yet it's formal settings that produce a credential, a diploma, or a degree."
"What we're really looking at here is a new form of lifelong credit," says Finkelstein.
Read article: http://associationsnow.com/2013/11/signs-of-change-american-alliance-of-museums-digital-badges/