Background
HRCP has been a leading provider of HR educational materials for nearly 30 years, assisting over 100,000 HR professionals in preparing for HR certification exams. HRCP now provides a range of services, including in-depth exam preparation, micro-courses, and a digital badging program called Micro HR. They aim to provide affordable, up-to-date, and comprehensive HR content to develop competent HR leaders.
As HRCP started offering micro-credentials, they quickly realized the power of digital badges in creating a unique path for learners.
Firstly, the skills and knowledge acquired by HR professionals through the program help their organizations avoid legal troubles as they stay updated with employment legislation. Additionally, they gain the confidence to evaluate other individuals' digital badges during the hiring process, thereby attracting the right talent to join their companies. They can also leverage their firsthand experience to provide invaluable career advancement tips to internal employees.
By offering micro-courses and digital badges, HRCP fosters a complete cycle of positive outcomes for both the badge earners in various roles and the organizations they work for.
HRCP Chooses Acclaim for Its Digital Credential Innovation
As a leading provider, HRCP sought to address the need for acknowledging achievements at a granular level beyond traditional certifications and degrees. They also aimed to provide more value to their learners by offering digital badges that document verified skills. To achieve this, they turned to digital credentials and, specifically, Acclaim.
HRCP wanted a platform that could offer comprehensive information about badges, including issuer details, criteria to earn the badge, and earned dates that enhance the credibility and value of the credentials.
Acclaim not only offers the features mentioned above, but it also distinguishes itself from other platforms through its strong analytics capabilities, user-friendly interface, and seamless social sharing features. In addition, the dashboard is easily understood and a great way to show off the digital badges.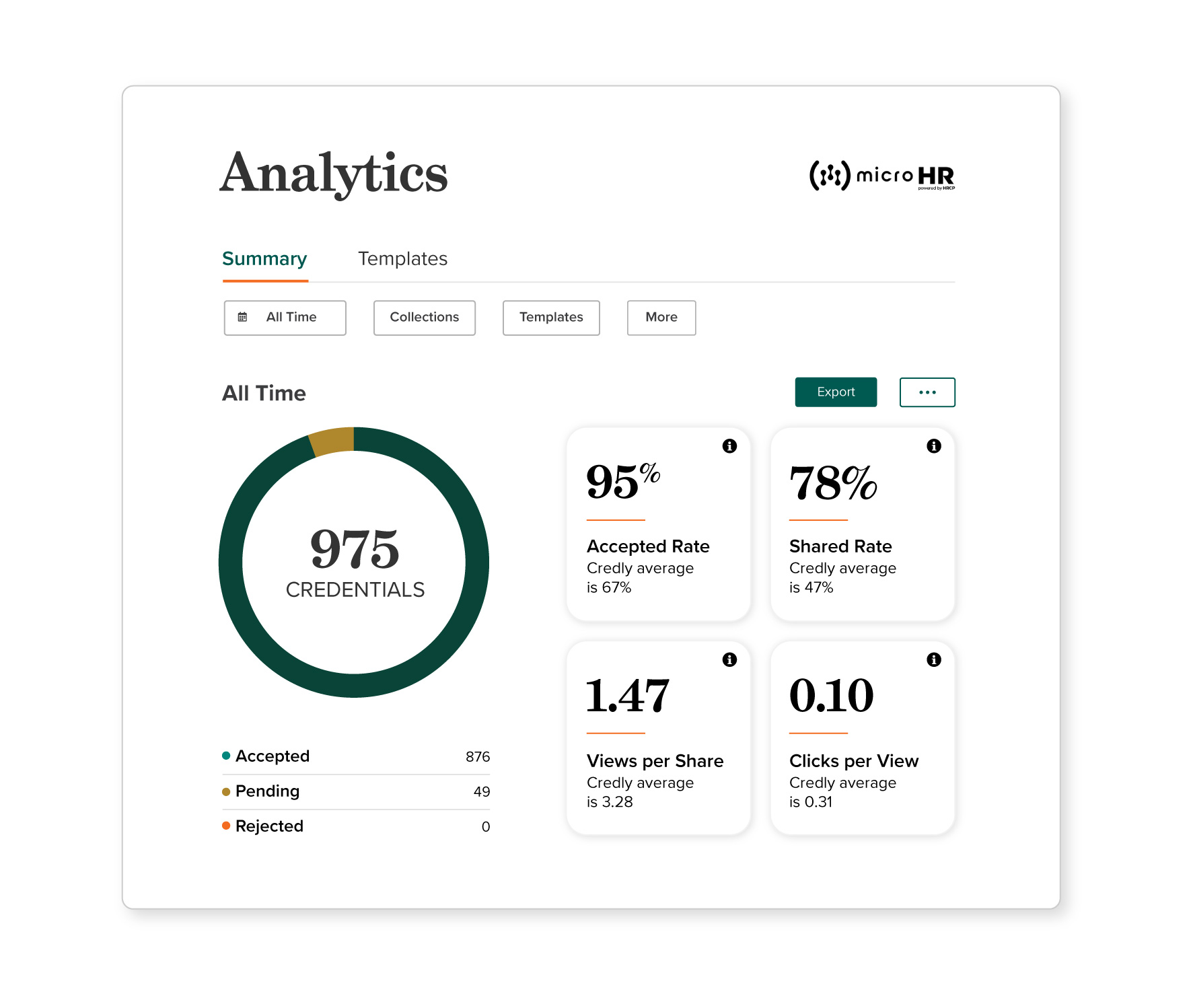 With clearly defined learning objectives, HRCP also found the implementation process simple and pain-free.
''The Customer Success team is always quick to respond to any questions about the platform and was flexible with the launch date to ensure the program's success.''
Terri Zaugg Varnell, SPHR, SPHRi
Chief Operating Officer

Empowering Growth and Career Advancement
Since implementing Acclaim, HRCP has experienced positive feedback from internal stakeholders and learners:
Nearly 1,000 digital badges have been issued, accounting for 34% of purchased courses.
The badges receive 95% acceptance and 78% share rates.
Gained nearly 3,000 new followers on our Micro HR social media accounts.
The email marketing campaign for badges has received a significant amount of interest, with a 52% open rate among subscribers.
Learners have reported securing new positions and experiencing career growth through badge sharing on LinkedIn.

The API integration has streamlined badge issuance and management, reducing the team's required management and oversight.
"I just had to express how much of an impact the Micro HR credential has made for me. I have been able to get 4 interviews in just one week of completing the credential. It has definitely been a game changer."
The Future with Acclaim
HRCP plans to leverage the success of its Micro HR digital badges and further expand its offerings. Acclaim facilitates collaboration with schools and organizations, providing highly respected and recognized digital badges. As a result, HRCP envisions continued growth and an increased number of badges in its portfolio.
HRCP has leveraged the potential of Acclaim to enrich its educational programs, acknowledge learners' accomplishments, and elevate the HR field through digital badges. The issuance of almost 1,000 badges, commendable acceptance and sharing rates, and favorable feedback from stakeholders has cemented HRCP's status as a trailblazer in conferring meaningful, industry-recognized micro-credentials to HR practitioners globally.
If you're interested in developing a successful digital credential program like HRCP and improving the prospects for your learners, don't hesitate to reach out to us for further details on the Acclaim platform.
Customer

View Program