CompTIA is the global leader in vendor-neutral technical certifications for aspiring and experienced IT professionals. Their industry-leading certifications allow professionals to build on their foundational knowledge in technology, as well as explore a range of specialties like computer networking, IT support, cybersecurity, and cloud computing to progress in their technical careers.
CompTIA's certification program is earner-focused and operates in more than 247 countries, aiming to promote IT and technical industry growth, the development of a highly-skilled workforce, and a commitment to creating an inclusive environment where innovation happens and the opportunities and benefits made possible through technology are available to all. Their program achieves these goals through education, training, certifications, philanthropy, and market research.
This global program visibility and recognition makes it essential to protect the CompTIA brand and continue to provide value to their certification earners.
Solution
CompTIA incorporated digital credentials into their robust credentialing program for three main reasons: to connect their earners to jobs, increase engagement with their badges, and instantly verify earners' credentials.
One feature that drew CompTIA to Credly is the ability to add skills within their digital badge metadata. With rich metadata, these skills tags allow CompTIA to provide context and requirements that mirror IT skills organizations are looking for on job boards, as well as show what it really means to earn a credential from CompTIA.
"Partnering with Credly and issuing digital badges have allowed us a new way to stay informed on how our certification earners are using their badges and has driven significant traffic to our website."

Kelly Ricker
Executive Vice President, Events & Learning,
CompTIA
Earners also have access to additional information about CompTIA, like the full list of digital certifications they offer. By using the recommended feature within Credly, CompTIA can guide earners toward the next advanced and stackable CompTIA credential in their IT career path. Since CompTIA's digital badging program launch with Credly in 2018, they've issued nearly three million badges.
Impact
clicks to CompTIA's website through their earners' digital badges
In a survey conducted by CompTIA in early 2021, 543 professionals were asked about how they use CompTIA digital badges. Seventy-nine percent of respondents fell into the Information Technology (IT) or related (e.g. software, web, emerging tech, etc.) functional area, with the remainder of respondents spread out between executive management, finance, marketing, operations, production, and other functions.
"The value of a CompTIA digital badge is undeniable: I'm getting more callbacks during my job searching than before."

CompTIA Earner
Survey respondents also reported a positive impact on career advancement that they tie to their CompTIA digital badge.
Using a digital credential allows CompTIA certification earners to share their validated skills with employers and peers on social media, email signatures, and professional badging transcripts with job applications through an easy to use earner dashboard. It also allows prospective IT professionals to quickly see the benefits of a CompTIA certification, building brand awareness and recognition for the program. When surveyed on the professional outcomes they've received from earning a CompTIA digital badge, respondents report the following:
received more responsibilities at work
received a raise or promotion
received other job-related benefits
CompTIA digital badge earners are excited to share their professional accomplishments and celebrate their colleagues' achievements.
Eighty-nine percent of CompTIA badge earners have published their digital credentials to LinkedIn. Digital credential earners have also shared their digital credentials to their digital resumes, email signatures, and other networking profiles like Facebook and Twitter.
CompTIA Digital Badges and Hiring Decisions
When asked to rate the value of CompTIA
digital badges in respect to making valuable
hiring and promotion decisions for IT
employees, respondents found the
following characteristics valuable:
70% value the easily verifiable nature of CompTIA digital badges

62% value the portability
of CompTIA digital badges

46% value the adaptability of digital badges in the ever-changing technology industry

41% value the flexibility in where and how IT professionals earn digital badges (can be issued within a company or from a training provider or professional association)
Social Shares Drive Earner Engagement
When seeing posts or notifications about friends' and colleagues' CompTIA digital badges on networking platforms, 51% of survey respondents liked or commented on the post and 36% were inspired to share their own post about their CompTIA digital badge. That social sharing drives increased engagement with the CompTIA brand and builds community for its certification earners.
51% Liked/Commented
36% Inspired to share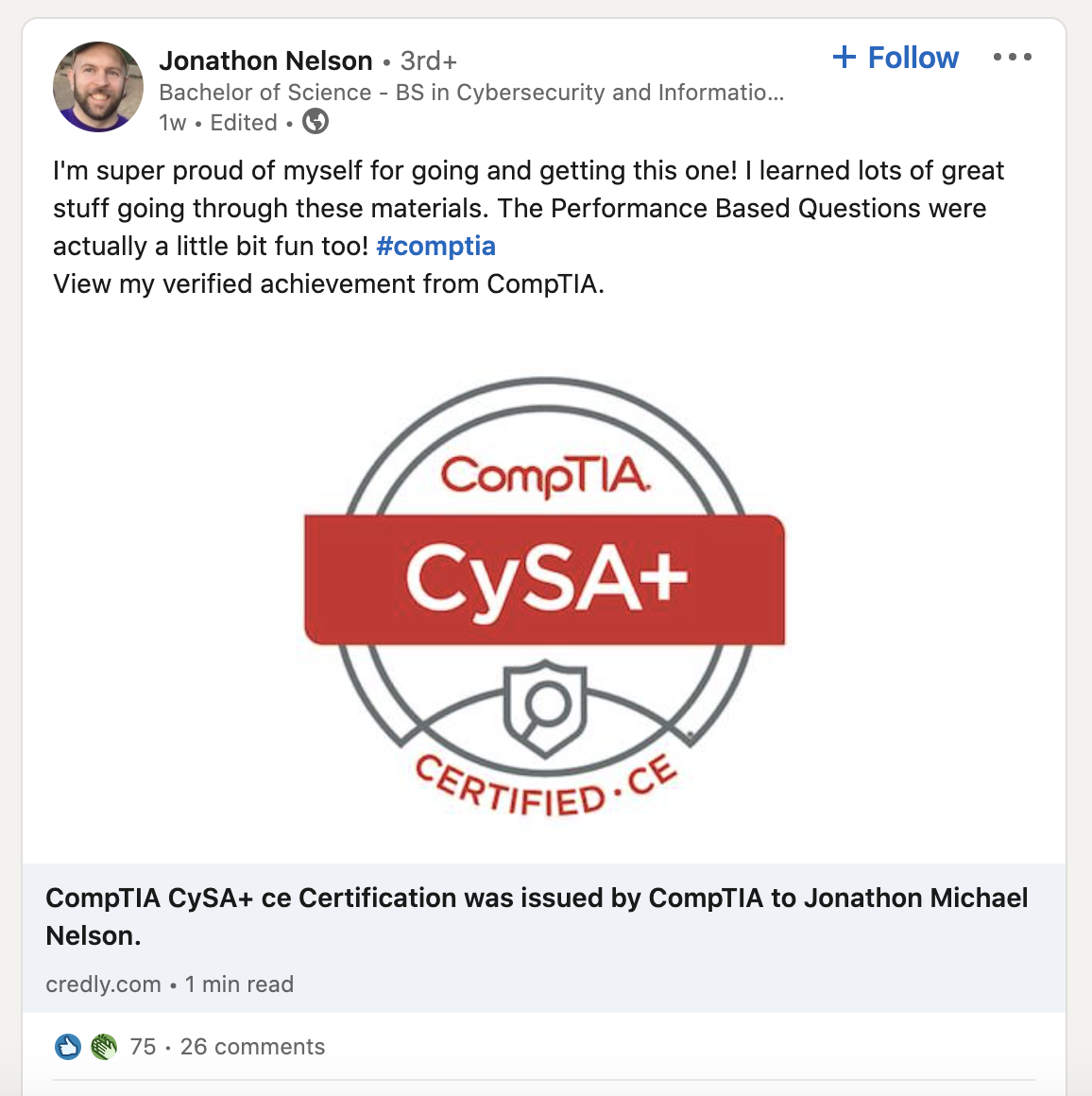 Customer

View Program
Optional Eyebrow Content
Read More
Copy about reading more case studies.